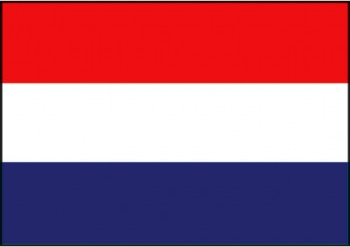 Get complete business understanding. Clear. Structured. Applicable.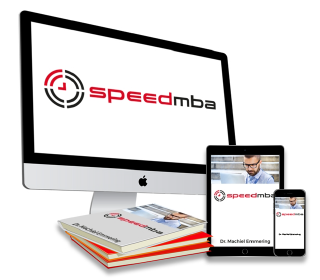 —  Online course: videos, audio, slides, workbook
—  The essence of all aspects of business
—  Ultra-compact, super-structured
—  Timeless: applicable tomorrow, and in 5 years
—  To the point explanations, for all levels
What you will learn and get better at
Enhance success: tweak strategic levers
Start a new business more solidly
Streamline a growing organisation
Increase management control
Improve yourself to get further
Mobilize others for their best buy-in
Read and assess financials
Work with improvement techniques
"Machiel knows how to guide you through thousands of pages of business theory and practice. In just one course! Absolutely great!"
"What a top achievement to convey so much information so clearly and succinctly."
"Nice, fast, and good course to get clear how a company works, and which buttons you can push to influence success."
Why SpeedMBA?
Everyone has to deal with organizations. And everyone with any ambition (as an entrepreneur, as an employee wanting a career, as a manager wanting performance), needs to understand how companies work. How to make them more effective, more efficient, more profitable and more pleasant.
This insight doesn't come with basic education, or with most advanced studies. And business insight is usually quite expensive, plus portrayed as something intended for the business elite. Nonsense. These insights are useful and should be accessible to everyone.
SpeedMBA offers complete business understanding without fuss. Clear. Structured. Applicable. At high speed. With full money back guarantee in case of dissatisfaction, so zero risk!
In addition to the course you can opt for a true world library in the most compact form: 52 summaries of the best business books in the world, all with the essence in 2 pages. Two complementary worlds: the all of business ecourse, and all of the best business books, ultra-compressed.
Logical questions and answers
Why would I pay anything at all with so much free content out there?
You're getting the whole story, in one place, in one framework, in one harmonious presentation. Free material on the internet only gives you small bits and pieces, at numerous places, unrelated, in various formats. That doesn't provide you with comprehensive understanding and overview.
Is this another success formula, like "get rich in 5 steps"?
Certainly not. It is more like an in-depth jigsaw of the whole picture of business. One of the things that you will learn is that the full range of business comes with an awful lot of considerations, and that apart from the lucky few who have miraculous success, there is simply a lot to tweak and do in your business to gradually build success. There is no "success button" or "5 steps to a 7-digit income".
How does this differ from a full business study, what is left out?
This course is so concise because two time consuming things are left out: [1] Content that is overly detailed, theoretical/abstract, or of not-so-general relevance. This is a huge saver.
[2] A college study reserves a lot of time for assignments. The idea is obviously that you should apply the content to your situation as to reap the value. How much time you'll spend on this is up to you. Note that you can use the course material over and again, in any company – provided that you have the discipline to apply the content in various contexts.
Immediately I got all kinds of ideas that I can apply in my current work, as well as in my own (future) company … I have become very enthusiastic! Truly a very enlightening course with many eye-openers and instantly applicable theory.
Machiel knows how to present the "total overview" to you in a striking and concise way. Very enlightening. Recommended to everyone, regardless of your number of years of work experience.
(…) I gained many new insights, and theories that I had seen earlier now suddenly make sense in practice. (…) A very useful course that I can recommend to anyone who quickly wants to get the essence of the whole core of business thinking.
The material is compact, understandable and applicable. I can apply this course well in my work, and this is the big gain for me. I can understand my business clients better, and therefore serve them better. Thank you for this excellent course!
Everything I learned in 25 years during management and leadership courses, from articles in trade journals and self-help books, came together in one course. Worth every penny, warmly recommended.
Understand any business. Dive into the 8 core areas:
Leadership & Entrepreneurship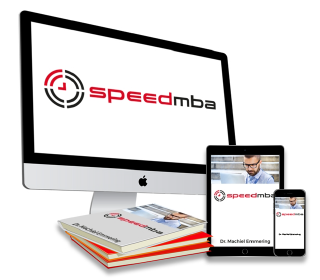 Not happy? Get a complete refund! Send one simple email within 2 weeks.
A business investment without risk!